Iraqi Christians Return to Their Rebuilt Town Amid Fragile Ceasefire Between Kurds, Iraqi Army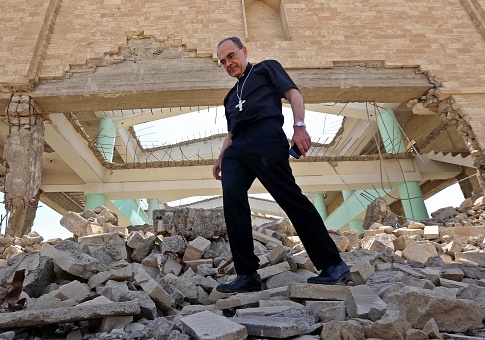 Catholic leaders are crediting that U.S. intervention for the survival of the town and its Christian community
BY: Susan Crabtree
Iraqi Christians have started flowing back into a town in Northern Iraq over the last several days amid a fragile ceasefire between the Kurds and Iraqi army.
After roughly 2,000 Assyrian-Chaldean Christian families fled the recently rebuilt town of Teleskof, strategically located in the Nineveh Plains, on Tuesday, the U.S. government stepped in to exert pressure on both the Iraqi government and the Kurds to stand down.
So far, there has been no exchange of gunfire in the past 48 hours and some Christian families have started returning as the United States keeps a close watch to ensure the ceasefire continues, according to sources in touch with people on the ground.
Catholic leaders are crediting that U.S. intervention for the survival of the town and its Christian community, which could have easily become collateral damage as the two sides squared off and prepared to battle each other for control of the area.
"We are grateful that just last evening American government involvement was able to stop the planned battle for Teleskof, a town in Nineveh recently liberated from ISIS and rebuilt with a $2 million grant from the government of Hungary," Carl Anderson, CEO of the Knights of Columbus, said Wednesday night when introducing Vice President Mike Pence at the In Defense of Christians dinner in Washington, held to highlight the plight of persecuted Christians around the world.
"The destruction of this town could have been in a very real way, the beginning of the end of Christianity in Iraq," he said. "There are so few of these towns left—each one is precious. While the peace is fragile, we are grateful for our government's attention to this issue."
Hungary had provided millions of dollars to help families return to Teleskof, which ISIS overran in 2014. Catholic organizations have cited the Hungarian commitment as a model for U.S. government foreign aid and assistance.
Pence announced Wednesday that President Trump had directed State and USAID to bypass the United Nations to more directly help the Christian, Yazidi, and other religious minorities in Iraq who were slaughtered and persecuted by ISIS rebuild and return to their communities.
Anderson, as well as several lawmakers and human rights activists, applauded Pence for the decision, which came after a months-long lobbying campaign against the Obama-era policy of providing U.S. humanitarian aid to the United Nations to distribute in Iraq.
Catholics organizations operating on the ground in Iraq have argued that Christian and Yazidi communities, as well as other religious minorities, have seen little very few tangible evidence of the U.N. aid.
Some church leaders documented evidence of corruption and mismanagement of the U.S. aid money intended for these communities.
http://freebeacon.com/issues/iraqi-christians-return-rebuilt-town-amid-fragile-ceasefire-kurds-iraqi-army/