Turkish FM Receives Egyptian Ambassador, Assyrian Representatives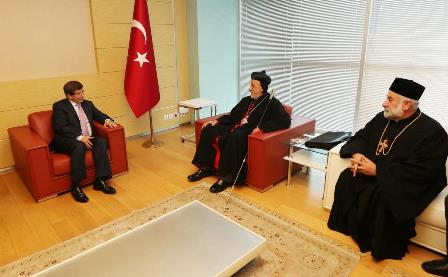 Assyrian International News Agency
Turkish Foreign Minister Ahmet Davutoglu received Abderahman Salaheldin, Egyptian ambassador to Turkey, on Friday discussing the situation in Egypt and bilateral relations in capital Ankara.
Diplomatic sources said Davutoglu received Salaheldin at the ambassador's request to discuss the latest developments in Egypt and the relations between the two countries.
Emphasizing Turkey's attitude toward the military coup in Egypt, Davutoglu said, "it is not against any specific group or movement, it means a principled support for democracy and the will of Egyptian people."
Turkey has strongly rejected Egyptian army's July 3 ouster of Mohammed Morsi, Egypt's first democratically elected president, as "a military coup", urging his reinstatement.
Davutoglu receives representatives of Assyrian communities
Davutoglu also separately received representatives of the Assyrian communities, discussing issues of Syria's Assyrians and two Syrian bishops who were kidnapped in April, whose whereabouts are still unknown.
The clerics, Yohanna Ibrahim and Boulos Yazigi, were abducted gunmen in the northern city of Aleppo on 22 April.
Davutoglu labeled the clerics's abduction as "a crime against humanity" and added that Turkey would continue to show maximum effort to find the two Orthodox Christian bishops.
The bishops were kidnapped as they were on their way back to Aleppo from Turkey. Their driver was shot and killed in the attack.
http://www.worldbulletin.net
http://iamnotashamedofthegospelofchrist.com/2013/07/20/turkish-fm-receives-egyptian-ambassador-assyrian-representatives/