65 years have passed since Istanbul pogrom against Greeks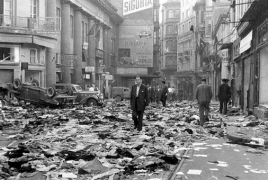 PanARMENIAN.Net – September 7 marks 65th anniversary of the Istanbul pogroms of 1955, which saw organized mob attacks directed primarily at Istanbul's Greek minority. Armenians and Jews were targeted as well.
The pogrom of September 6-7, 1955 is one of the gravest events in the history of Turkey that hasn't been confronted yet. It virtually marked the end of a 2500-year history of the Greek presence on the territory of modern Turkey, with the =Greek population of the country declining from almost 120,000 people in 1927, to about 7,000 in 1978.
The events spread to other cities in Turkey as well, first of all to Izmir, affecting the families of Greek officers who were working at the NATO headquarters in the city.
According to official records, 60 women were raped and many were killed. Following the impunity of the pogrom, tens of thousands of Greek, Armenian, Jewish and Syriac citizens were forced to leave the country under threat of life.
In addition to other atrocities and acts of vandalism, Greek cemeteries were destroyed, graves were dug up and the remains of the dead were scattered all around.
https://www.panarmenian.net/eng/news/284846/65_years_have_passed_since_Istanbul_pogrom_against_Greeks