Assyrian church marks beginning of construction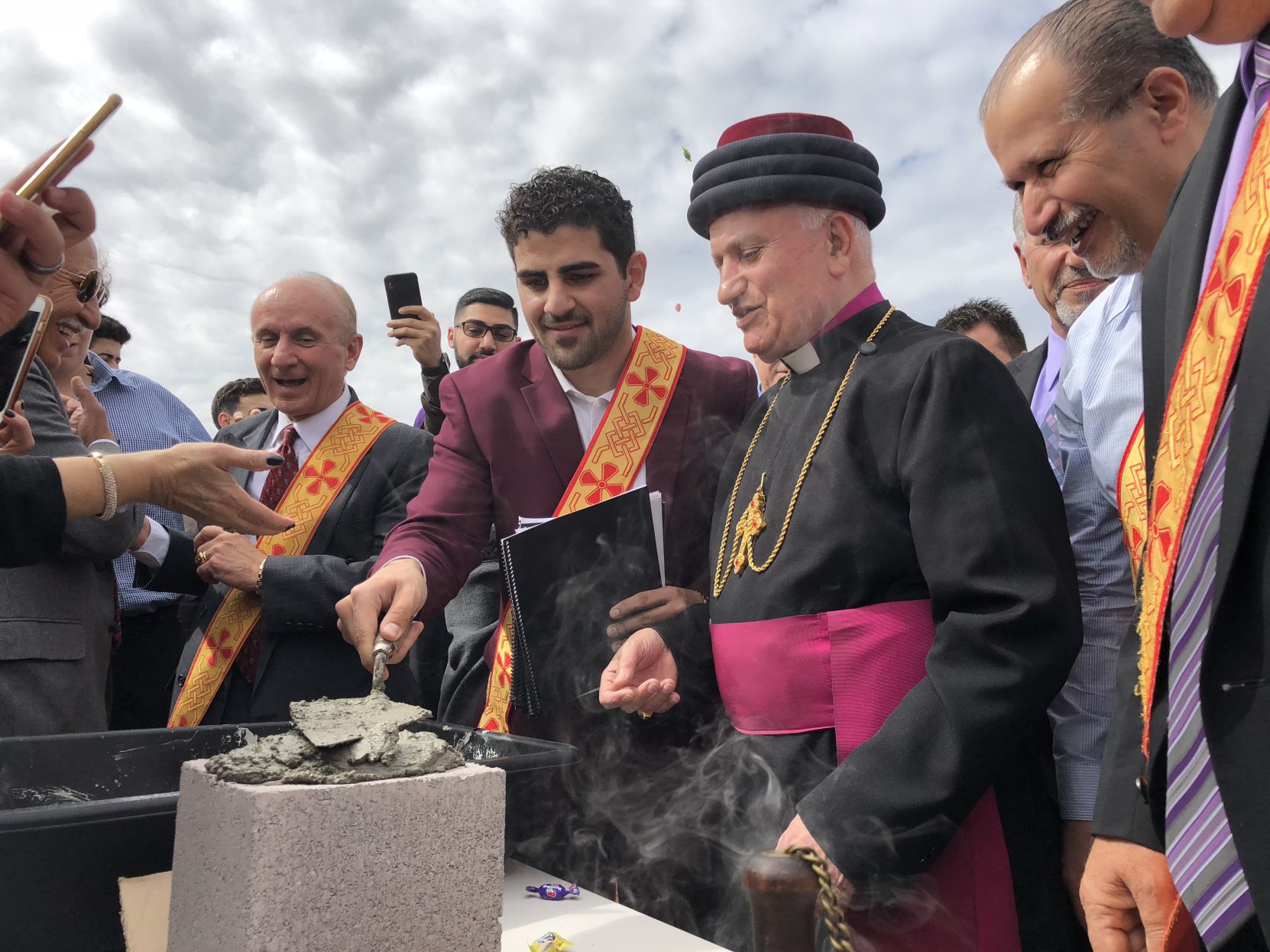 By Ralph Zubiate, Tribune Managing Editor
Deacon Andrew Aziz helps Bishop Mar Aprim Khamis seal the foundation stone for the Mar Yosip Parish of the Assyrian Church of the East in Gilbert.
Special to the Tribune
The East Valley's only Assyrian church is on the move – finally.
After fundraising for 13 years, the Mar Yosip Parish has started construction of its own building in Gilbert. Until now, the congregation has been meeting in Chandler in rented spaces and the Tumbleweed Recreation Center.
"We started back in 2005," said Andrew Aziz, youth president and deacon at the church. "This is the first piece of property we've owned."
He added, "We've had a few hiccups with the city and architect, but that's common with construction projects."
Church members came out to the site recently, at 1287 N. Recker Road, for a Laying of the Foundation Stone Ceremony. Bishop Mar Aprim Khamis, bishop of the Western United States for the Assyrian Church of the East, placed oats, salt and sugar in a cinder block and sealed it in cement as other church members sang and blessed the site. The stone will go under the altar in the completed church.
As the ceremony wrapped, the bishop offered a blessing and women of the church ululated, throwing candy in celebration.
"We've been waiting such a long time for this," said Nenwe Geeso, vice president of the church's youth association. "It's definitely great to see it happen, especially for the younger generation."
The new building, with a chapel and banquet hall, should open by this summer.
"Now, we kind of wait," Geeso said. "Everybody's been super-excited to see it be built. People are going to the site all the time, so excited to see it."
Aziz said the church has bigger dreams ahead.
"Our goal is to expand," he said. "There's a lot of people in the Assyrian community, from California and especially Chicago, who are ready to move to the East Valley when this church opens."
The church now is set to hold 240-250 people. With an influx of worshipers, the church will need more space.
"If more young kids come, we'll possibly need classrooms. We don't have those yet," Aziz said. "We'll need a bigger worship space, a bigger banquet hall, classrooms. We're looking to the future."
The church is continuing to raise funds by selling personalized bricks to be placed in the entrance foyer. Each is $500, available at projectmaryosip.com.
Information: maryosipparish.org, facebook.com/maryosipchandler.
– Contact Ralph Zubiate at 480-898-6825 or rzubiate@timespublications.com.
http://www.eastvalleytribune.com/news/assyrian-church-marks-beginning-of-construction/article_f987e5bc-18f2-11e8-96b9-77ad8ad4e4d1.html