New Haven-based Knights of Columbus give to area charities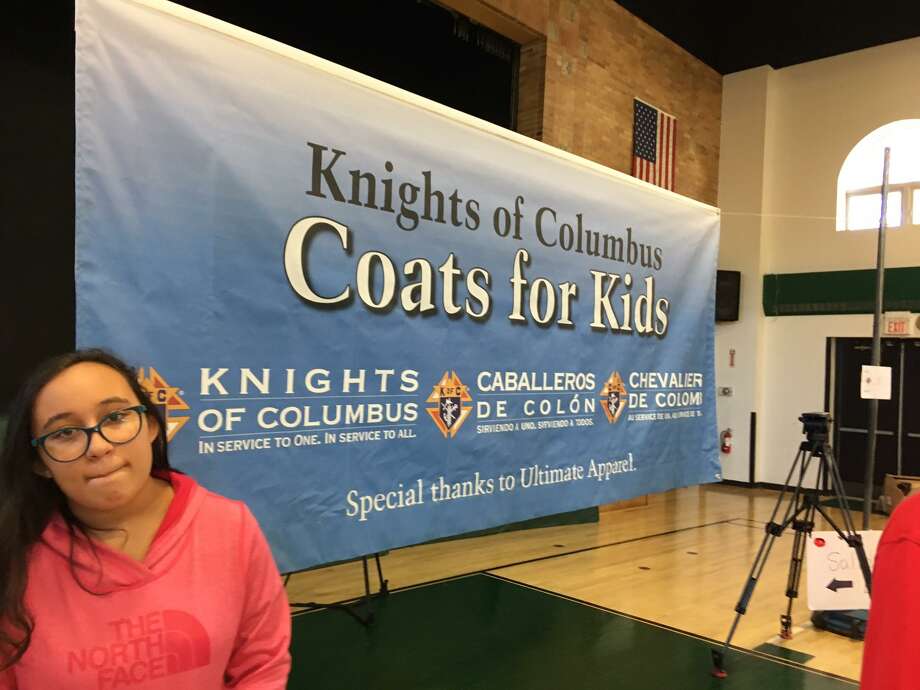 The annual Knights of Columbus Black Friday coat giveaway, Nov. 24, 2017, McGivney Center, Bridgeport Photo: Linda Conner Lambeck
Photo: Linda Conner Lambeck
The annual Knights of Columbus Black Friday coat giveaway, Nov. 24, 2017, McGivney Center, Bridgeport
NEW HAVEN — The New Haven-based Knights of Columbus gave $256,000 to area charities in 2017, with a new home in Hamden for a Vietnam War veteran and his family among the funding targets, according to a release.
The home was built with $75,000 in funding from the Knights under the direction of Habitat for Humanity, the release said. The Knights have supported building five homes in the New Haven area in partnership with Habitat.
The Knights also donated $7,000 for Thanksgiving turkeys for New Haven's annual "Day of Joy." Since Thanksgiving Day, the Knights have given away about 2,000 "Coats for Kids" in Connecticut valued at $39,000, the release said.
The Catholic fraternal organization has recently sent contributions to more than 20 area charities, "which puts its giving for the year in excess of a quarter of a million dollars," the release said.
"The Knights of Columbus is happy to partner with and support the great work of these organizations in our community," said Knights CEO Carl Anderson, also in the release. "Whether they provide housing, food, a safe place or other kinds of assistance, the spirit of giving and help that these organizations exhibit is a great reminder to all of us of the true meaning of Christmas."
Among organizations that received donations are: Connecticut Food Bank, St. Ann's Soup Kitchen, Columbus House, Connecticut Hospice, Farnam Neighborhood House, Christian Community Action, Community Soup Kitchen, Little Sisters of the Poor, Loaves & Fishes Food Pantry, St. Luke's Lunch for Women and Children, St. Thomas More Soup Kitchen, The Salvation Army, Immanuel Missionary Baptist Church, Beacon on the Hill, Caring Cuisine, Downtown Evening Soup Kitchen, Life Haven, Community Dining Room and Mary Wade Home.
The Knights set a new record for charitable donations in 2016, with "more than $177.5 million in donations and more than 75 million hours of service valued at $1.8 billion," according to the organization.
The Knights also recently announced the organization is giving a 30-day supply of food to 12,000 displaced or formerly displaced Christian families in northern Iraq.
"The Knights of Columbus is pleased to help bring a Merry Christmas to those displaced by ISIS or now returning home to recently liberated areas," Anderson said, in a release. "These Christians have lost everything for their faith, and we want them to know that they are not forgotten and that their sacrifices inspire us in our own faith."
"Valued at $840,000, the Christmas baskets contain food staples such as wheat, rice, beans and meat, along with cleaning supplies. With the assistance of the Chaldean Catholic Archdiocese of Erbil, the Knights' gift is being distributed to Syriac Catholic, Syriac Orthodox and Chaldean Catholic families, as well as Yazidis."
"Even though we are still in a time of great uncertainty, the knowledge that our brothers in the Knights of Columbus are in solidarity with us, especially at this time of year, brings great comfort," said Archbishop Bashar Warda of Erbil, in the release. "God bless them all."
The K of C has committed more than $17 million in aid to Christians and other religious minorities in the region since 2014.
For more information on the Knights' efforts visit www.ChristiansAtRisk.org.
https://www.nhregister.com/news/article/New-Haven-based-Knights-of-Columbus-give-to-area-12462776.php