Iraqi archbishop appeals for help rebuilding Christian communities after IS persecution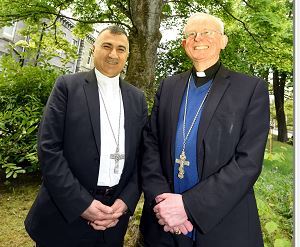 by Joe Churcher
Irbil Archbishop
An Iraqi archbishop has appealed for support for Christians as they face a "critical time" of recovery from brutal persecution.
Bashar Warda is leading a mission to revive ancient communities torn apart when self-styled Islamic State extremists tore through them in 2014.
Catholics in the north and north-east raised tens of thousands of pounds to support those who fled the Nineveh Plain to Kurdish-controlled Irbil.
Families have been living in camps and church-funded accommodation, amid fears the rest of the Christian population might abandon the region entirely.
At least four fifths of the estimated 1.5million Christians who lived in Iraq in 2003 have left.
But now that IS have been forced out of their villages, work has begun on the £200million-plus task of rebuilding homes, as signs grow that many want to stay.
Archbishop Warda, the leader of the Chaldean Christians in Irbil, set out the position when he visited the Granite City yesterday to pay his thanks.
"It is really a very critical time," he told the Press and Journal as he met the Bishop of Aberdeen Hugh Gilbert.
"There is a hope coming back again but we all know that it is a fragile hope, a hope that really needs to be supported and strengthened.
"We have passed the most difficult faith test.
"Now we are looking for people to continue their support, to continue their prayers, to continue their efforts of raising awareness.
"Wherever we find people who show sympathy and solidarity and who are willing to hear our story and help us, it is an act of justice to come and say thank you and share more details about what is happening."
He arrived fresh from a private meeting with Prince Charles, who has spoken out on the issue on the past and who he found "engaged and fully informed".
More from the Press and Journal
Church of England faces split as parishes discuss stance on homosexuality
Gay clergy in call for greater inclusion in Church of England
Minister hails 'greatest honour' to be named Moderator of the General Assembly
Archbishop of Canterbury will vote to stay in EU
The visit has been organised by the Aid to the Church in Need, a key player in the recovery effort.
The charity's UK national director Neville Kyrke-Smith praised the "outstanding" fundraising efforts of the region's congregations.
Bishop Hugh said he was delighted to welcome the archbishop and "see all the ways in which we can help and support".
"There is a great deal of work still to do," he said.
"Many thought that they would be leaving for good and not come back but there is now quite a groundswell that they would like to come back.
"But there is both material and social reconstruction needed and it is a big enterprise.
"We are very happy to be a part of that."
Iraqi archbishop appeals for help rebuilding Christian communities after IS persecution