Former Iraqi refugee to graduate from University of Mary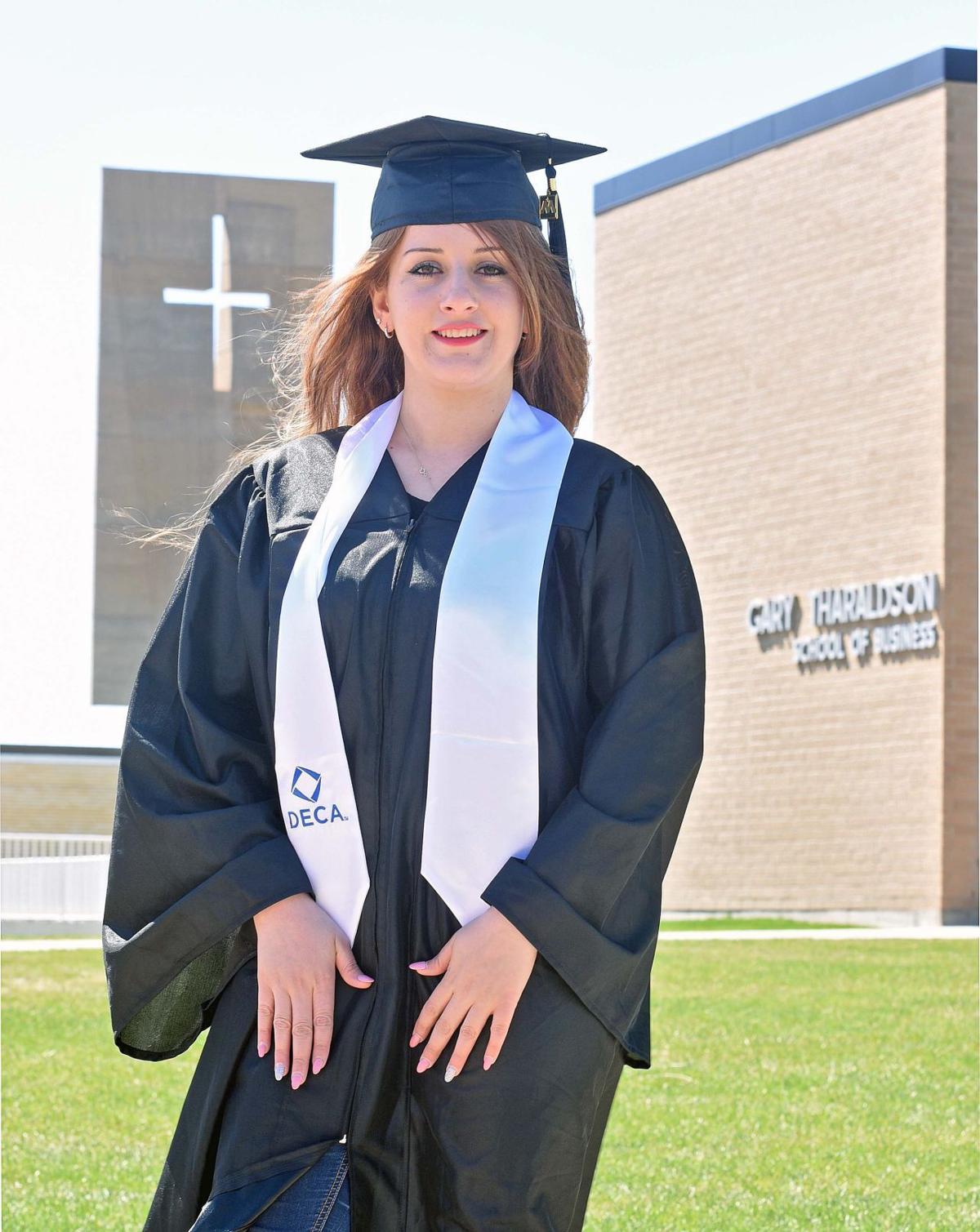 BLAIR EMERSON Bismarck Tribune The daughter of the first Iraqi family to arrive in Bismarck since Lutheran Social Services reopened its office here in 2009 is graduating from college this weekend.
Merna Douri will walk across the stage at the University of Mary in Bismarck on Saturday to receive her bachelor's degree in business and health care administration and then continue into the school's master's program in business administration.
She is the oldest and the first of four Douri children to graduate college.
"We are so proud of her," her mother, Abtsam Douri, said this week in their northeast Bismarck home.
The 25-year-old undergraduate student transferred to the university in 2015, where she adapted quickly to life in college. She lives at home with her parents and previously worked at Walmart to help pay for her school tuition. She also became heavily involved in DECA, where she got to know Karel Sovak, a collegiate DECA adviser.
"I was blown away by the hardships (her family) endured," said Sovak, a marketing and management professor at the Gary Tharaldson School of Business. "Still, she doesn't see herself as a victim; she doesn't see herself as anything less."
The Douri family fled Iraq in 2008 to escape religious persecution, because they are Christians. After ISIS entered their home country, all of the Christians fled to Lebanon, Jordan or Turkey.
"They told my dad that he or one of his kids was going to be killed," Merna Douri said. "We had to pay money or convert to Islam. We didn't have a third option, but we made it a third option (to) just move."
The family relocated to Turkey and enrolled to become refugees with the United Nations refugee agency. Abtsam Douri said they were asked if they had any family or friends in another country, and her husband mentioned his cousin, who had been in Bismarck since the '90s.
At age 17, Merna Douri and her family landed in New York. They stayed for a day or so before heading to Bismarck, where they lived in apartments before moving into their current house in 2012. Merna's father, Raeed Douri, got a job working on the assembly line in Walmart, and her mother started working at Lutheran Social Services as an Arabic translator, where she still works today. Her father now owns his own electronics repair shop, Raeed & Sons Electronic Service.
Merna Douri entered 11th grade at Century High School. Despite her fears, she managed to graduate with good grades.
"I was so scared (in high school); I did not know any English," said Merna Douri, who didn't talk for three months in high school. "Somebody would see me, and I'd have no idea what they were saying."
After graduation, Merna Douri went to Bismarck State College. She wanted to go to pharmacy school, but none existed in the area and she said she was too afraid to move away from her family. Instead, she took business classes online through Dickinson State University for a year before enrolling at the University of Mary.
"I would love to own a business, which is why I don't want to give up on pharmacy," she said. "I want to go to school for pharmacy and then, in the future, open my own pharmacy."
Merna Douri has a love for math and science, which is fitting because her mother was a high school chemistry teacher in Iraq. Abtsam Douri said the strict Islamic culture in their country restricted the careers they could pursue. Abtsam wanted to be a dentist, and her husband, an electrical engineer.
"In high school (in the United States), you can choose what you like," Merna Douri said. "Over there, no, your grades decide for you."
Abtsam Douri said she's grateful for the opportunities she and her family have in the United States.
"In the beginning, it was really hard," Abtsam Douri said. "We came to this country without any English, and we wanted to start a new life. America is our home now."
Abtsam and Merna Douri said the community and their neighbors have been very nice and supportive.
"Even when we came and bought this home, all of our neighbors, we like all of them, they came and introduced themselves, and I introduced me and my family," Abtsam Douri said.
"We share food all the time," Merna Douri added.
The Douri family became naturalized U.S. citizens last spring. Merna Douri has three younger brothers, Fadi, 24, who will graduate from North Dakota State University in December, Rami, 19, who is studying at BSC, and Dani, 18, who will graduate from Century High School next month.
Merna Douri works as a material analyst at Bobcat in Bismarck. She also helps out at her father's electronics repair shop.
Sovak said Merna Douri is a natural business leader.
"I know from working with her dad that she has that business sense. I think she already knows what it would be like to have a business, and I have no reservations in saying she would be successful," Sovak said.
Merna Douri is among nearly 900 students graduating from the University of Mary this spring. The commencement ceremony will take place at 2 p.m. Saturday at the Bismarck Event Center.
http://bismarcktribune.com/news/local/bismarck/former-iraqi-refugee-to-graduate-from-university-of-mary/article_29652d4d-5f44-5f00-ad49-dcc90d649b17.html