Advocates encourage Trump to take action on anniversary of Christian genocide designation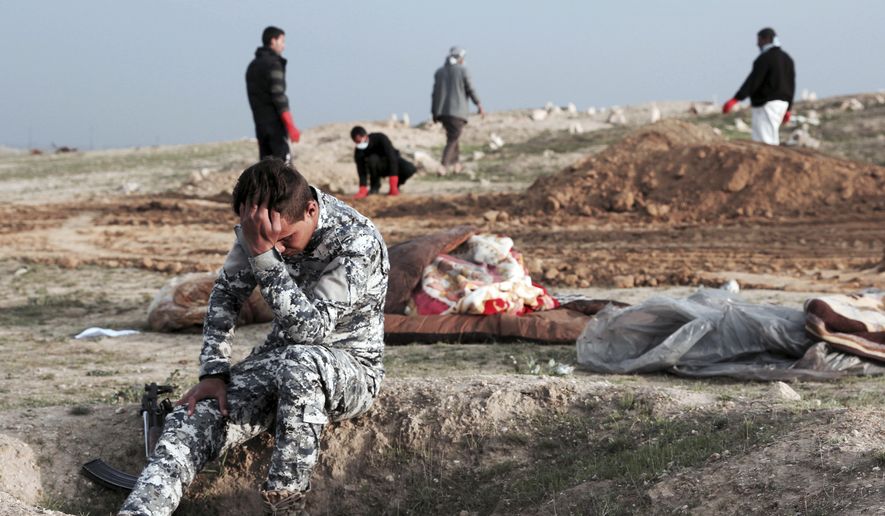 An Iraqi policeman collects himself as he is surrounded by bodies at the site of a mass grave containing some two dozen people, many of them children, in an area recently re-taken from Islamic State militants in Mosul, Iraq, Wednesday, … more >
By Bradford Richardson – The Washington Times – Thursday, March 16, 2017
Lawmakers, advocates and survivors gathered Thursday to mark the anniversary of the U.S. designation of Islamic State genocide against Christians, Yazidis and other religious minorities in the Middle East, urging the Trump administration to turn those words into action.
Friday marks the one-year anniversary of the designation issued by former Secretary of State John F. Kerry, which followed the 393-0 vote in the House to recognize the crimes of the Islamic State as genocide.
Reps. Jeff Fortenberry, Nebraska Republican, and Anna G. Eshoo, California Democrat, were among those in attendance Thursday at the U.S. Capitol Visitor Center to celebrate the bipartisan achievement and outline steps to take going forward.
Ms. Eshoo recalled her surprise that the resolution passed.
"It's hard to believe that a year has gone by since the resolution passed in the House, and as I have often said to my wonderful, blessed friend, Congressman Jeff Fortenberry, if someone had said to me around that time that this would pass the House, I would have said, 'I don't think so,'" Ms. Eshoo said. "And yet it did, and it became the policy of the United States of America that there indeed was [and] is a genocide that is taking place."
Nadia Murad, a Yazidi survivor of genocide, said the designation was a "very important step" toward ending the killing.
Sponsored Content
This game will keep you up all night! This game will keep you up all night! Vikings
How Look Alike They Are: 25 Gorgeous Kids Of The Rich And Famous How Look Alike They Are: 25 Gorgeous Kids Of The Rich And Famous The Dome of Parenting
CombiMatrix Q4 Revenues Rise With Growing Reproductive Test Business CombiMatrix Q4 Revenues Rise With Growing Reproductive Test Business 360dx.com
Recommended by
But words are not enough, she said.
"Since the genocide has been recognized, we are still waiting, and no big steps have been taken, and not a lot has changed," Ms. Murad said through an interpreter. "Minorities, they migrate whenever they get a chance to leave. And they live in refugee displaced camps under tough conditions. Thousands are still held captives by ISIS," she said, using an acronym for the Islamic State.
Andrew Walther, vice president of communications and strategic planning for the Knights of Columbus, echoed that sentiment.
"The words of the last administration and the last Congress were excellent, but they were not enough," Mr. Walther said. "I think we all owe a huge debt of gratitude for those words. But what we have now is a new Congress and a new administration and some problems that were left over beyond the words."
He encouraged Congress to pass the Iraq and Syria Genocide Emergency Relief and Accountability Act of 2017. Sponsored by Rep. Christopher H. Smith, New Jersey Republican, the act would follow up the designation of genocide by providing emergency relief to affected groups.
The Knights of Columbus pledged to donate $1.9 million to build medical clinics in Iraq, supply Easter food baskets to displaced Christians in Irbil, provide general relief for Christians in Aleppo and support Christian refugee relief programs.
Nina Shea, a senior fellow at the Hudson Institute, encouraged U.N. Ambassador Nikki Haley to bring awareness to the issue on the international stage.
"U.N. Ambassador Nikki R. Haley has been called the conscience of the U.N. because she has eloquently and clearly called out the U.N. for sometimes politicized or unequal treatment on human rights," Ms. Shea said. "Well, this is a situation that also needs balance, and I hope Secretary [of State Rex W.] Tillerson will instruct Ambassador Haley to hold the U.N. accountable to a standard of not marginalizing the Christian, Yazidi and Shiite-targeted populations of Iraq and Syria."
Philipe Nassif, executive director of In Defense of Christians, said American leadership is imperative to alleviate the plight of groups persecuted at the hands of Islamic State.
"It's very important they know that this country wants to take leadership to fix this issue and end the killing, to restore these lands, to restore these communities and to make sure that they have an economic future," Mr. Nassif said.
Ms. Eshoo said she is optimistic because there is "movement" in Congress to address Christian genocide.
"I'm very pleased that more and more members are joining that effort," she said. "What I'm suggesting to you is that success breeds success. It becomes a magnet, and others want to become part of it. But for each one of you who are extraordinary advocates, we can't take our foot off the pedal. We have to stay on it, because listening to Nadia reminds us that we still have a great deal of work to do."
23 Celebrities with Famous Parents: You Won't Believe Who Prince's Father Was! 23 Celebrities with Famous Parents: You Won't Believe Who Prince's Father Was! The Dome of Parenting
The app that teaches you a new language in 3 weeks The app that teaches you a new language in 3 weeks Babbel
Trump Has Offended The CIA Trump Has Offended The CIA Wizzed
Sir Richard Branson's Biggest Single Piece of Advice Sir Richard Branson's Biggest Single Piece of Advice Wild Hippy
NBA Players Teams are Glad to be Rid Of NBA Players Teams are Glad to be Rid Of PointAfter | By Graphiq
This NBA Draft was (By Far) the Worst in History This NBA Draft was (By Far) the Worst in History PointAfter | By Graphiq
The Five Most Expensive Homes for Sale in the U.S. The Five Most Expensive Homes for Sale in the U.S. Mansion Global
Is It Possible To Get 20/20 Vision Naturally? Is It Possible To Get 20/20 Vision Naturally? Look Fit – Lifegooroo.com
Recommended by
Copyright © 2017 The Washington Times, LLC. Click here for reprint permission.
blog comments powered by Disqus
Click to Read More
http://www.washingtontimes.com/news/2017/mar/16/christian-genocide-in-middle-east-anniversary-has-/