Obama hoped to use Islamic State as leverage against Assad, John Kerry reveals
By Guy Taylor – The Washington Times – Tuesday, January 10, 2017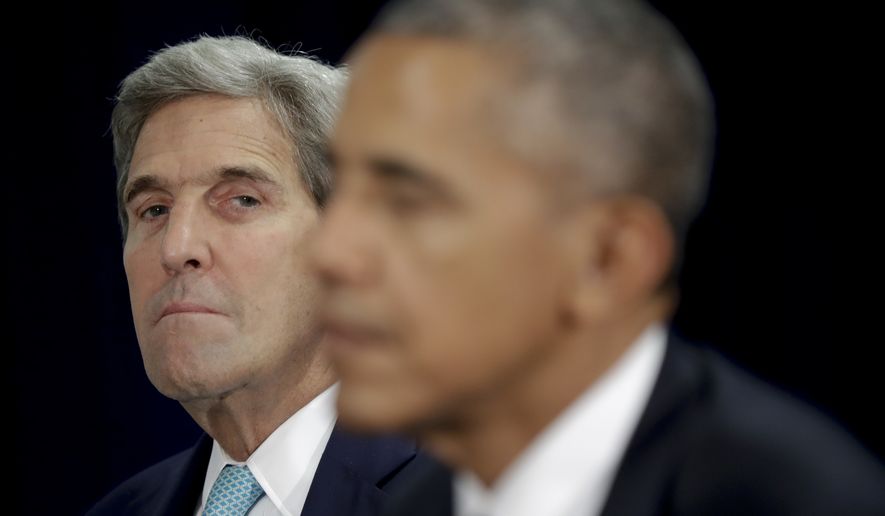 Well before Russia's military came to Bashar Assad's aid in Syria, the Obama administration calculated that the Islamic State's expansion in the region would force the Syrian president into negotiating with Washington, according to private comments Secretary of State John F. Kerry made last fall.
Leaked audio captures Mr. Kerry's closed-door discussion with Syrian activists on the sidelines of the U.N. General Assembly in late September.
Although some details of the meeting have been reported, little attention has been paid to Mr. Kerry's discussion about a strategy to use the terrorist group's growing presence in Syria and Iraq as leverage to pressure Mr. Assad.
President Obama has said repeatedly that the Syrian leader must step down to end the country's brutal civil war.
The State Department on Tuesday forcefully denied any suggestion that the administration ever had a policy of tolerating or trying to use the group, also known as ISIS and ISIL. But Mr. Kerry's comments, which drew fresh scrutiny in the Arab media last week, raise questions about the extent to which the administration sought to gain from the terrorist group's prominence to force Mr. Assad to capitulate.
"The reason Russia came in is because ISIL was getting stronger," Mr. Kerry said on the recording, posted on the website of AMN News, an online aggregator of material focused on the Middle East. "[The Islamic State] was threatening the possibility of going to Damascus and so forth. We were watching. We saw that [the Islamic State] was growing in strength, and we thought Assad was threatened.