Al-Qosh: A reminder of Christianity's uncertain future in Iraq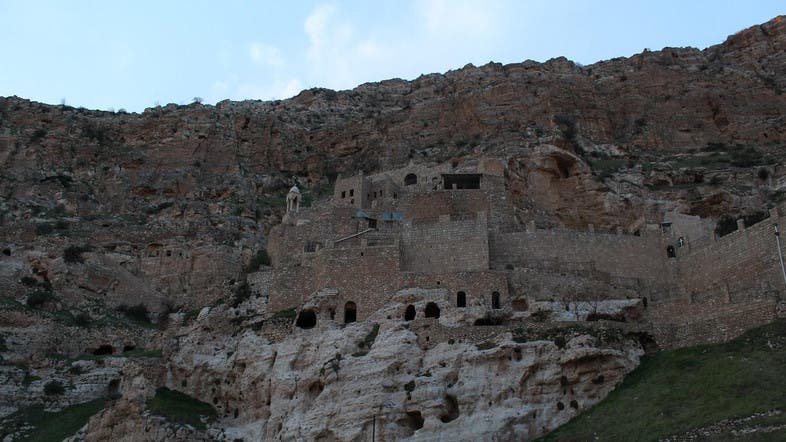 Over history, the Rabban Hormizd monastery has been destroyed and rebuilt several times. (Florian Neuhof/Al Arabiya English)
By Florian Neuhof
Special to Al Arabiya English Tuesday, 23 February 2016
The inhabitants of al-Qosh, a town 50 km to the north of Mosul, hastily fled when trouble first approached in 2004. But after the radical extremists withdrew without entering the town, many townsfolk returned, keeping alive a Christian presence that stretches back to the religion's early days.
The rise of ISIS is the latest threat to the minority, and their advance in 2014 uprooted some of Iraq's largest and oldest Christian communities. Thousands of Christians streamed out of Mosul when it fell to ISIS in June that year, and out of nearby Assyrian villages and towns. They now live in refugee camps in the autonomous Kurdish region, biding their time until their homes are liberated. (Given the pace at which Iraqi and Kurdish forces are rolling back the ISIS, they could be waiting a while.)
Iraq's Christians have had a tough time since the second Gulf War plunged the country into continuing chaos fueled by religious fanaticism. Repeatedly the target of terror, most have left, shrinking a once sizable community estimated at 1.5m in 2003 to as little as 200,000 now.
Time running out?
Situated on the edge of the lush fields of the Nineveh plains, at the foot of the Bayhidhra mountains, al-Qosh looks like a town with its back to the wall. Nevertheless, it flourished for centuries, as the dilapidated, once-proud stone houses in its historic core testify. Several churches speak of a rich Chaldean Catholic tradition, and the ruins of a synagogue reminds of a long-departed Jewish community.
Yet most people in al-Qosh believe that their time in Iraq might be drawing to a close.
What does the future hold?