Christian child hunted by ISIS -What she is capable of will stop you in your tracks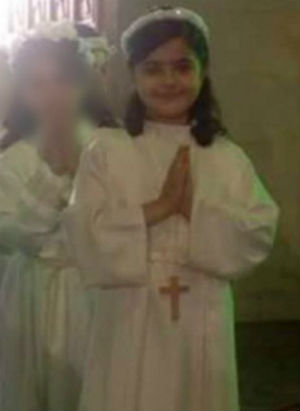 By Kenya Sinclair (CALIFORNIA NETWORK)
Twelve-year-old Mirna Hana, a Christian and gifted singer, was uprooted from her home in Iraq when terrorist organization ISIS threatened to kidnap her.
Mirna, 'the Chaldean Princess of Babylon,' and her family fled ISIS after the terrorists threatened to kidnap her (comisarul).
LOS ANGELES, CA (Catholic Online) – Mirna stunned the world when she appeared on "The Voice Kids" in Beirut and gave a beautiful rendition of "Let it Go," from Disney's "Frozen" following an Iraqi love song called "Yesterday in a Dream."
Mirna, who has been called "The Babylon Princess," was able to perform in Beirut after fleeing Iraq with her family eight months prior.
In a video, the child shared that she was forced to leave Iraq and travel to Lebanon with her family eight months ago to save her life.
"Afer we got to Lebanon, my dad told me that Daesh [ISIS] wanted to kidnap and kill me. From then I felt very scared at night, and I couldn't sleep alone, or be by myself," Mirna shared.
"'The Voice' is a chance to sing for the world and to show that Iraq isn't just about war and things like that – there are beautiful sounds too."
Mirna blew everyone away as she sang Disney
Mirna blew everyone away as she sang Disney's 'Let it Go' (The Voice Kids).
Mirna's father, Anwar, added, "Everybody knows the difficulties of Iraq, from ISIS and how they slaughter the people and how they take their houses. They threatened us with the kidnapping [of] our the [sic] little girl, so we came here. We left everything behind us – even my job with the government."
Despite the reason for arrival in Lebanon, Mirna stood tall and proud on the stage as she sang her heart out to the judges and audience.
The first song Mirna sang, "Yesterday in a Dream," was created by one of the judges, who immediately recognized what she was doing and was pleased with her rendition of his love song.
The other judges quickly turned to face the still-singing Mirna and they applauded her once the final note fell. Per the rules of "The Voice," each judge attempted to convince Mirna to join their team. One judge offered the girl Frozen costumes while another judge said she could appear in his movies.
One of the judges, Kazem Saher, who is known as the "Caesar of Arabic Singing," convinced her to join his team when he offered her the opportunity to sing whatever she wanted.
Mirna is now set to pit her singing skills against other child singers in "The Voice Kids." Meanwhile, a Facebook group supporting Chaldean Christians has stepped up support for the young girl.
Since Mirna's performance upload, it has been viewed over 12.3 billion times and continues to garner more each minute.
—
The California Network is the Next Wave in delivery of information and entertainment on pop culture, social trends, lifestyle, entertainment, news, politics and economics. We are hyper-focused on one audience, YOU, the connected generation. JOIN US AS WE REDEFINE AND REVOLUTIONIZE THE EVER-CHANGING MEDIA LANDSCAPE.
https://www.catholic.org/news/hf/family/story.php?id=66695