Christians in fight against ISIS blocked from weapons, equipment by D.C. lobbyists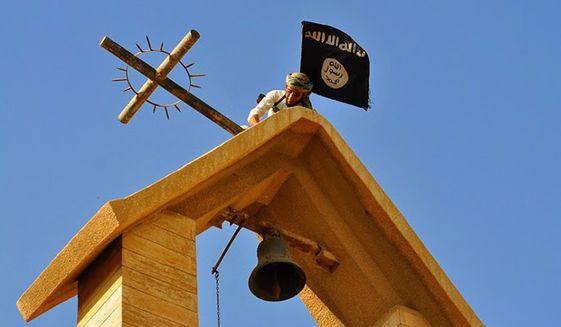 Photo by: Uncredited
In this photo released on March 7, 2015 by a militant website, which has been verified and is consistent with other AP reporting, a member of the Islamic State group holds the IS flag as he dismantles a cross on the top of a church in Mosul, Iraq. (Militant website via AP)
Lobbyists in D.C. are blocking weapons and equipment from reaching Dwekh Nawsha, the Christian militia force that has been fighting ISIS in Iraq's Assyrian Nineveh plains, according to retired Lt. Col. Sargis Sangari, an American advisor.­
Originally reluctant to fight, Christians decided to take up arms and defend their homeland after ISIS' brutal onslaught in Iraq last summer. While thousands of Christians have fled, the men of Dwekh Nawsha, whose name means "self sacrifice" in Jesus' native tongue of Aramaic, want to preserve Christianity in its ancient homeland.
"After 15 years, you'll come back here and you won't find any Christians," said Marcus, a young Dwekh Nawsha fighter, to Yahoo News.
Marcus said that he knows that one day "our children… will ask us: 'Why did you give up? Why didn't you fight?'"
"So we will tell them: 'We fought,'" he said.
Assyrian Christians, who still speak Aramaic, have formed at least four armed groups, according to Yahoo News, with three fighting in the area north of Mosul.
Lt. Col. Sangari, an Iraq war veteran who served 20 years in the Army, told Breitbart that Dwekh Nawsha's fighting ability has been severely depleted.
"All we're saying is we're done. We don't have equipment. We don't have the weapons. We don't have the training," said the Assyrian-American Lt. Col. Sangari.
"One of the biggest obstacles we run into are the lobbyist groups in Washington, D.C. who are being funded to no end to try to preach in favor of other ethnicities in the region who cannot even manage and administer their own areas," he said. "Because of that the Assyrians have not been able to get the support they need."
Pointing to the criticized U.S. policy of training and arming Syrian rebels, Sangari said: "As much as you're giving money to all these individuals who are killing each other, why don't you try to give it to the Assyrians?"
U.S. money, training, and equipment would allow the Assyrian Army to take the fight to ISIS, said Sangari. Currently, their lack of resources prevents them from launching an offensive.
"Anybody who fights just for money will be a failure, but when you give money to individuals who are fighting for their homeland, they'll be successful," he said.
American-born Assyrians who have trained in the United States military, like Sangari, are an invaluable asset to the Assyrians, and the U.S. should use these advisors and "patriots" to assist in the fight against ISIS, he said.
"If you cannot trust Americans who support those Assyrians on the ground who have taken their advice, then I don't know who you can trust in the region," Sangari told Breitbart.
Sangari said that the Assyrian Army is among the most effective groups fighting ISIS. The group started with just 12 fighters last summer, and has managed to protect Christians despite a lack of resources by holding a Forward Line of Troops in the Nineveh Plains, Breitbart reports.