Explained: Islamic State's war on History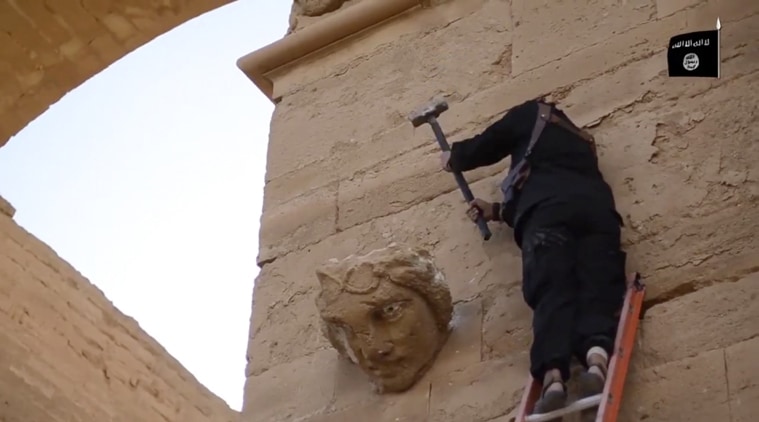 UNESCO World Heritage Site Palmyra will likely join the list of humanity's collective heritage that has been destroyed by the Islamic State. What has the world lost already? Why are the militants doing it?
An IS fighter attacks a face on a wall in the 2000-year-old UNESCO World Heritage site of Hatra in Iraq. AP, from a video posted on YouTube by IS on April 3
SMASHED, RAZED, BURNT
Khorsabad Palace
15 km from Mosul, the Assyrian Sargon II built a beautiful palace between 717 BC and 706 BC. It had carved stone reliefs, some of which are now in museums in Baghdad, Cairo and Europe. On March 9, 2015, Iraq said it had received reports that IS had destroyed Khorsabad.
City of Nimrud
Capital of the first in a long series of empires in Tigris-Euphrates basin; in c. 800 BC, got a city wall, ziggurat, temples, and palace elaborately decorated with carved reliefs of sacred and mythical figures including famous winged bulls and lions. Extent of IS destruction unknown.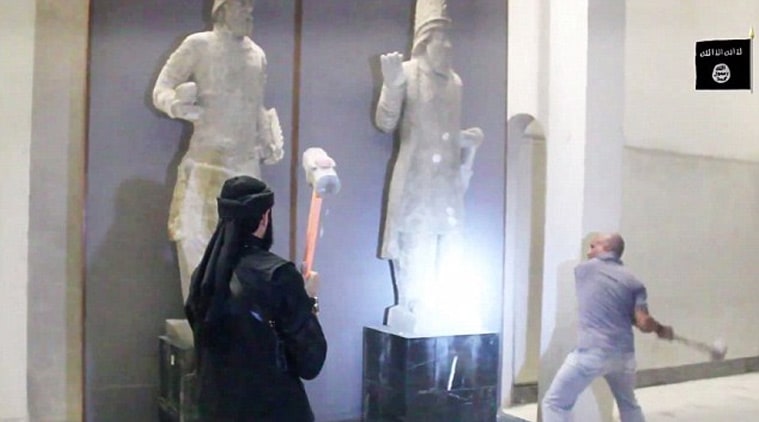 Video shows militants 'destroying ancient artefacts' – Middle East – World – The Independent Isis has released a propaganda video showing sledge-hammer wielding militants destroying ancient artefacts in Iraq's northern city of Mosul. (Source: AP)
Museum, Library
In February 2015 IS released a video showing militants hammering at ancient Assyrian statues and museum pieces. In February 2015, IS blew up with explosives Mosul's nearly a century-old Central Public Library, along with thousands of ancient manuscripts and instruments.
Jonah's Tomb
The location where the Biblical prophet Jonah was thought to have been buried, inside a large Sunni mosque known as Nabi Yunus in Mosul, had been destroyed by explosives, IS said in a video released in July 2014. The mosque stood on layers of history, built atop a Christian church, that had itself been built on a mound of the Assyrian city of Nineveh.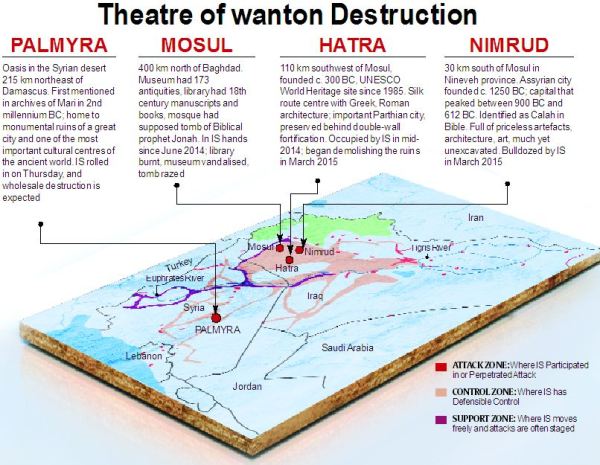 WHY THE DESTRUCTION
For religion?
IS has invoked the sin of shirk, or idolatory, in justification. In videos, it has said, "We were ordered by our prophet to take down idols and destroy them… Whenever we take control of a piece of land, we remove the symbols of polytheism and spread monotheism in it." IS ideas of shirk apply not just to pre-Islamic sites, but also to dissenters to their view of Islam: Shias, Yazidis, Kurds, Christians, etc.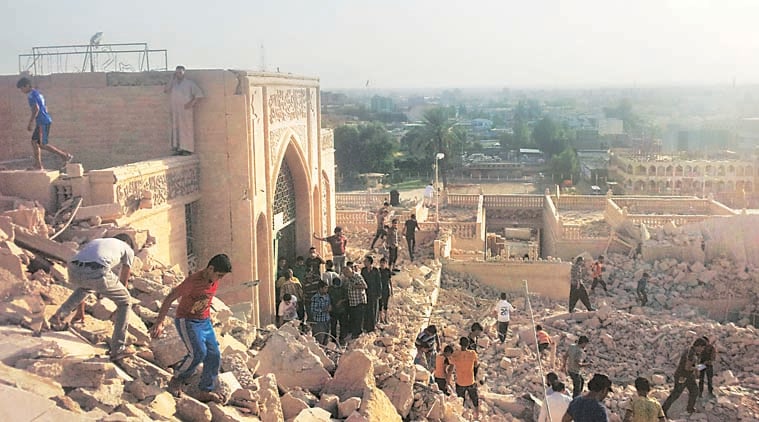 The remains of a large Sunni mosque in Mosul where the Biblical prophet Jonah was thought to have been buried after it was destroyed by explosives as ahown by ISIS in a video released in July 2014.
To provoke?
IS seeks to use the angry international reaction to tell the local population that the West does not really care about them, it cares only for the idols. It could also be intended as combat strategy: as the Iraqi forces work with their international collaborators, the IS may be trying to provoke them into coming in a certain direction. Or, the militants, by their scorched earth policy, may be trying to deflect attention from the losses they have suffered in Tikrit.
WORST MAY NOT BE OVER YET
The area under IS control is home to nearly 1,800 of Iraq's 12,000 registered archaeological sites. The extent of damage is impossible to estimate, but the UN has warned that the "rich tapestry of cultural heritage" at Palmyra, the Crac des Chevaliers, the Saint Simeon Church in the ancient villages of northern Syria, and Aleppo "are being ripped to shreds".
LOST FOREVER IN PALMYRA?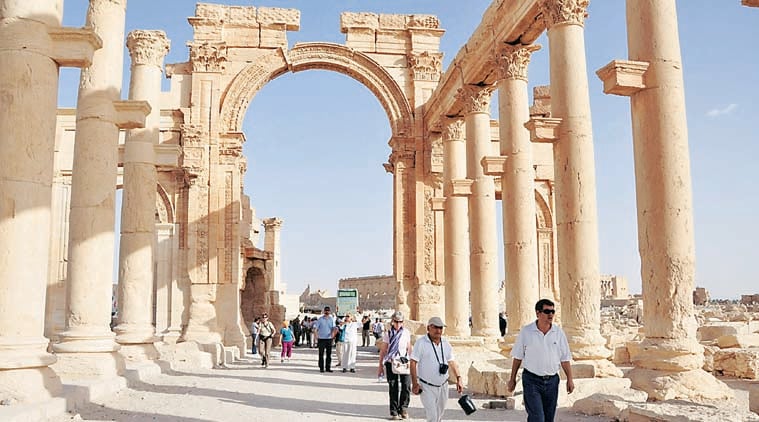 Tourists walk in the historical city of Palmyra, September 30, 2010. Islamic State fighters in Syria have entered the ancient ruins of Palmyra after taking complete control of the central city, but there are no reports so far of any destruction of antiquities, a group monitoring the war said on May 21, 2015. Picture taken September 30, 2010. REUTERS/Nour Fourat
An idea of the extent of damage will probably have to await another IS video. Palmyra's irreplaceable heritage includes a grand, colonnaded 1.1-km street (left), that forms the monumental axis of the city.
http://indianexpress.com/article/explained/explained-islamic-states-war-on-history/