Dutton's department accused of using 'reprehensible' tactics to deny Iraqi Christian's asylum claim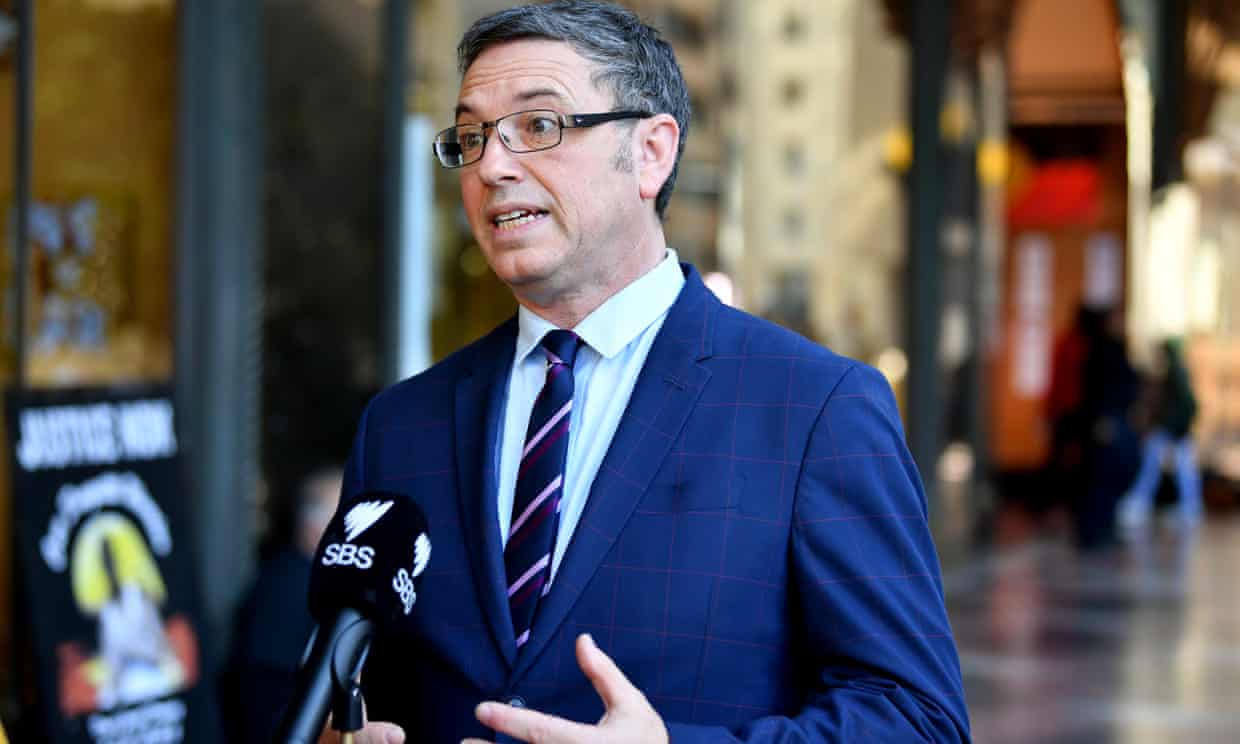 Home affairs bureaucrats accused of 'fishing for an excuse' to refuse genuine refugee's claim
Helen Davidson
George Newhouse, principal lawyer at the National Justice Project, says the department appears to be 'fishing for an excuse to start the assessment process again' for Ali Alkhazali's claim for asylum. Photograph: Joel Carrett/AAP
Home affairs bureaucrats have been accused of "fishing for an excuse" to deny an Iraqi Christian's asylum claim after losing a court bid to stop him on character grounds, internal emails reveal.
Ali Alkhazali has been found by Australia to have a genuine refugee claim but the emails contain "strategic" requests to have his case reopened to see if it would now be refused.
Alkhazali, who has been in and out of detention for six years, is waiting for the immigration minister to make a discretionary decision on his case.
The department had refused his visa on character grounds but that was overturned by the administrative appeals tribunal, prompting the then immigration minister, Peter Dutton, to ask it to be referred to him for ministerial intervention.
Emails spanning April to June between various home affairs bureaucrats, obtained by Guardian Australia, now appear to show attempts to reassess Ali's original claim by saying it was "now aged". The emails note if his claim was rejected after reassessment the minister would not need to intervene.
George Newhouse, who is principal lawyer at the National Justice Project, which represents hundreds of asylum seekers and refugees, described the attempts as "unwarranted and a disgrace", and said the department appeared to be "fishing for an excuse to start the assessment process again".
He told Guardian Australia the case was "indicative of a change in the government policy in the way they deal with refugees".
Government to challenge federal court's ability to order sick refugees to Australia
Read more
"The department is trying to use its own delay in processing this man's claims against him in order to try and reverse an earlier finding that he is a refugee," he said. "It is reprehensible for our government to use its own dilatory behaviour in this way."
Alkhazali arrived in Australia by boat in 2012 and was sent to Nauru in January 2013, where he was detained for two years, including nine months in the Nauruan prison. He had been convicted in Nauru over offences related to the riots six months after his arrival, and to an indecent assault.
On return to Australia he was invited to apply for a temporary protection visa, four years after first arriving. He was found to have a well-founded fear of persecution and a valid claim based on his conversion to Christianity and a lack of protection in Iraq.
Advertisement
"I fled my country because of a serious threat of death from my family because of my religious beliefs and conversion to Christianity," Alkhazali told Guardian Australia. "I believe I have the right to choose what to believe but, unfortunately, we do not have freedom of religion back home in Iraq."
Despite the finding, Alkhazali's application was sent for character assessment to an internal assessment body, the National Character Consideration Centre (NCCC), which recommended the minister's delegates refuse his application, claiming there was a risk he would engage in criminal conduct in Australia.
Alkhazali appealed the decision and won, with the administrative appeals tribunal directing the department to remake it according to the law. It noted the context to the riot-related convictions and that the indecent assault was at the lower end of offending, and found there was "not a risk he would engage in criminal conduct in Australia".
After the successful appeal in July 2017, the home affairs minister, Peter Dutton, "indicated he would like the case to be referred to him for his personal consideration under 501A", a section of the Migration Act that allows for ministerial discretion on visa applications, the emails revealed.
In September 2017 the NCCC suggested to the department that Alkhazali's claim was "now aged" and requested it be reassessed, and the next month Alkhazali was formally told the department intended to refuse his application.
In an April 2018 email the bureaucrat sought guidance asking what to do about the NCCC's request. He said he had been told a reassessment could only occur if there had been relevant changes in country or individual circumstances, and was recommended to look at the country.
'The sky doesn't fall in': refugees integrate well in Australia, survey finds
Read more
He described the NCCC's request as "strategic" given country information for Iraq had not changed.
"The issue before me is that NCCC have requested reassessment of the case for strategic purposes," he wrote. "In that if the case is reassessed and the applicant is found not to engage Australia protection obligations, then the s501A consideration will be withdrawn."
The emails indicated a draft submission – to assist the minister to exercise his 501A discretion – was being held back until they could determine if Alkhazali was still owed protection.
By July, the emails suggested department officials had decided his claim was still valid and the submission had gone to the minister, where it sits now.
"The department began talking about re-interviewing me to start the entire process again," Alkhazali said. "When we spoke to the department about this, they cancelled the interview. I don't understand what's happening."
The department said it did not comment on individual cases but protection visas were given only if Australia's obligations were engaged and other criteria, including security and character requirement, were met.
"Decisions by the administrative appeals tribunal for reconsideration of a visa cancellation or refusal are remitted to the department for further consideration, and do not reflect a final visa decision," it said.
Last week the federal court held a directions hearing after Alkhazali applied to have it to order the minister to make a decision one way or the other.
The next court appearance is scheduled for December.
"It's been almost six years since I arrived in Australia and almost six years that I've been in detention," Alkhazali said. "All I need from Australia is to give me life and to protect me from death. I cannot go back home but I don't know how much longer I will have to wait in detention."
Since you're here …
… three years ago, we knew we had to try and make The Guardian sustainable by deepening our relationship with our readers. The revenues from our newspaper had diminished and the technologies that connected us with a global audience had moved advertising money away from news organisations. We decided we needed to find a way to keep our journalism open and accessible to everyone, regardless of where they live or what they can afford.
And so, we have an update for you on some good news. Thanks to all the readers who have supported our independent, investigative journalism through contributions, membership or subscriptions, we are overcoming the urgent financial situation we were faced with. We are now supported by more than nine hundred thousand readers around the world. We stand a fighting chance and our future is starting to look brighter. But we have to maintain and build on that level of support for every year to come.
Ongoing financial support from our readers means we can continue pursuing difficult stories in the challenging times we are living through, when factual reporting has never been more critical. The Guardian is editorially independent – our journalism is free from commercial bias and not influenced by billionaire owners, politicians or shareholders. No one steers our opinion. This is important because it enables us to challenge the powerful and hold them to account. Readers' support means we can continue bringing The Guardian's independent journalism to the world.
If everyone who reads our reporting, who likes it, enjoys it, helps to support it, our future would be so much more secure. For as little as £1, you can support the Guardian – and it only takes a minute. Thank you.
https://www.theguardian.com/australia-news/2018/nov/07/duttons-department-accused-of-using-reprehensible-tactics-to-deny-iraqi-christians-asylum-claim