He goes on to say: "All three Abrahamic faiths have known and continue to know the bitterness of persecution when religion has fallen into the barbaric grip of those who distort and misrepresent faith."
This is the first time the Prince has recorded a message to be released at Easter.
He was inspired by discussions with religious leaders throughout the past 12 months, and by meeting people who have been forced to flee their homes after being targeted for their Christian beliefs, especially in the Middle East.
In their annual report, Aid To The Church In Need described the actions of Islamic State and other Islamist militant groups in Iraq and Syria as genocide against Christians.
John Pontifex from the charity said: "The reality is that the persecution of Christians has got to the stage where the very presence of Christians in countries where they've lived, is now threatened to the extent that they may well disappear in our lifetime.
"And this is a terrible injustice for those people who believe they belong to the land.
"So we're talking about Syria, we're talking about Iraq, we're talking about other countries in the Middle East where there have been indigenous Christian communities right back almost to the time of Christ who are now threatened with extinction."
Sky News met Christine Denkji who grew up in Syria and now lives in London.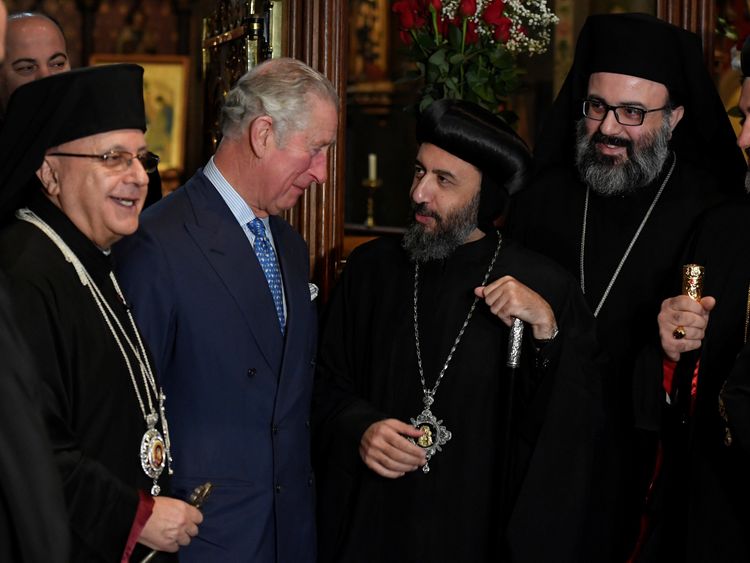 The church has been a big part of her family life but she had to escape from Aleppo six years ago when the civil war made worshipping too dangerous.
She told us: "They took Christian girls, they raped them, they used them. Yeah it was bad.
"I told my mum and brothers… if anybody took me in and raped me, they usually do that and return the girl… I told them please kill me because I can't live with this anymore."
Last year in Egypt over 120 Coptic Christians were killed in attacks at Easter and close to Christmas.
Archbishop Angaelos from the Coptic Orthodox Church hosted Prince Charles when he visited their cathedral in Stevenage five years ago.
Speaking to Sky News, the Archbishop said Easter was an important time to remember the plight of those being persecuted.
He said: "At a time when we all gather as families and celebrate the things we have, to see and be reminded of the sufferings of others will have a great impact.
"Because the things we take for granted like families around us, like churches we can celebrate in, a faith we can have or indeed choose not to have, without any repercussions – seeing that other people don't have that luxury, will make us think again."
Prince Charles's Christian beliefs are very important to him, as is his commitment to interfaith work.
In December he visited St Barnabas Church in Pimlico, London, an Anglican Church where Melkite Catholics also worship.
Speaking during the service, the Prince said that no one should take for granted their own freedom to worship.
It is a message he hopes will resonate with congregations across the country who are able to openly pray together this Easter weekend.