Pentagon warns Iraqi militias to 'fall in' behind Baghdad, amid growing sectarian tensions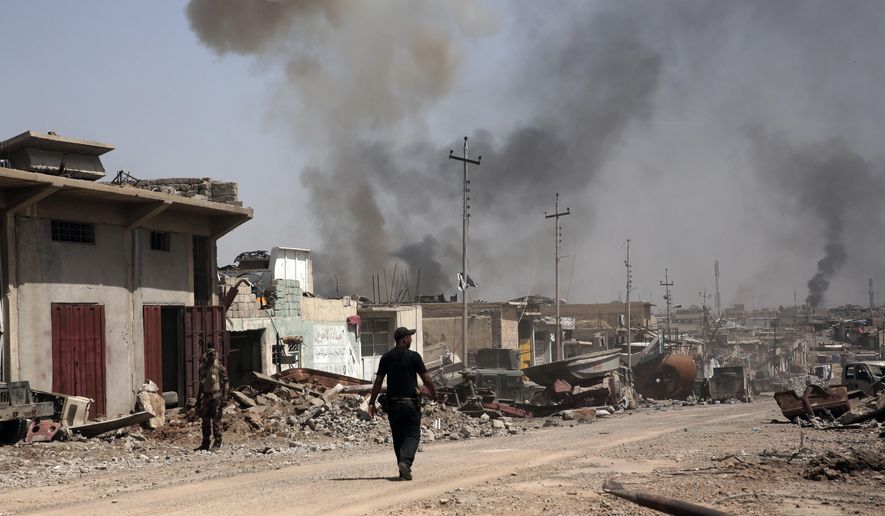 In this Tuesday, May 9, 2017, file photo, smoke rises during heavy fighting between Islamic State militants and Iraqi special forces in the industrial area of west Mosul, Iraq. (AP Photo/Maya Alleruzzo, File) more >
By Carlo Muñoz – The Washington Times – Tuesday, May 30, 2017
The Pentagon on Tuesday warned the Iraqi militias fighting alongside Iraqi forces to liberate the Islamic State-held city of Mosul to fall in line behind commanders in Baghdad, amid rising sectarian tensions between Iranian-backed Shia militias and Kurdish peshmerga in the war-torn country.
"Everyone needs to follow [Baghdad's] lead and fall in behind them," Pentagon spokesman Capt. Jeff Davis said, regarding rising tensions between Shia paramilitaries known as the Popular Mobilization Units or PMUs, and peshmerga.
Capt. Davis acknowledged the challenges facing Iraqi and coalition commanders in managing such a diverse fighting force. But he reiterated the chain of command in the fight against the group known as ISIS or ISIL in Iraq runs through Baghdad, and all participants in that fight needed to respect that fact, he said during Tuesday's briefing at the Pentagon.
His comments come as tensions have come to a head in the Yazidi enclave of Sinjar in northern Iraq's Nineveh province this month, as PMU fighters continue to clear ISIS-held territory in and around the northern Iraqi city of Tal Afar, roughly 50 miles east of the terror group's besieged Iraqi capital of Mosul.
Despite being accused of extrajudicial killings in previous anti-ISIS offensives in Fallujah and Anbar province, Baghdad federalized the PMUs ahead of the Mosul offensive and tasked them with leading the attack on the western flank of the city when the operation kicked off last October.
As Iraqi forces close in on the remaining ISIS redoubts in Western Mosul, PMU forces have begun liberating Yazidi-
http://www.washingtontimes.com/news/2017/may/30/pentagon-warns-iraqi-militias-fall-behind-baghdad-/