Iran Seizes Assyrian Church, Will Turn into 'Islamic Prayer Center'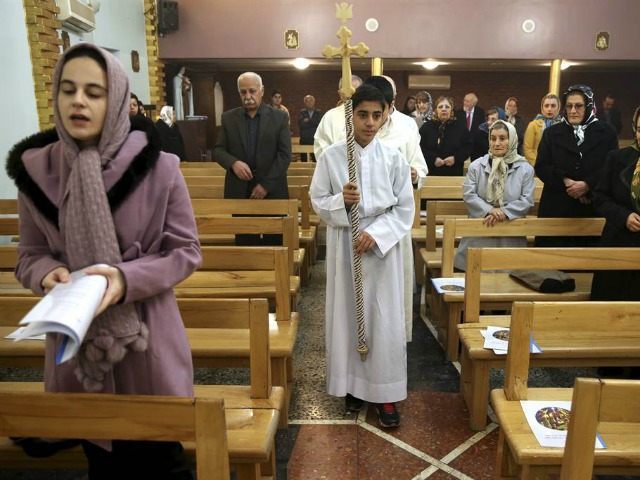 AP Photo/Ebrahim Noroozi
by Adelle Nazarian5 Jan 2016279
As the Islamic Republic of Iran's (IRI) crackdown on Christians continues, the theocratic regime plans to turn an illegally confiscated Assyrian church into an "Islamic prayer center."
According to the Assyrian International News Agency (AINA) and the National Council of Resistance of Iran, the land belonging to the Iranian Assyrian community's Chaldean Catholic Church, which is situated in Western Tehran, was illegally confiscated two years ago by authorities who said they would be turning the grounds into an Islamic prayer hall.
Authorities are reportedly refusing to return the property.
The IRI's Shiite theocracy has recently amplified its crackdown on minority groups of various religious backgrounds, including Assyrians, Christians, Bahais, and even Sunni Muslims. No Sunni mosques exist in Iran's major cities, such as Tehran, Isfahan, Shiraz, or Mashhad.
Meanwhile, the persecution of Christian converts continues under President Hassan Rouhani's administration.
According to Articles 12 and 13 of the Iranian Constitution, all branches of Islam and Christianity have the right to worship, as do Jews and Zoroastrians, within the limits of the law there. However, converting away from Islam to any other religion is considered haram, or forbidden, and in many cases, could result in execution.
Individuals who are born into Christianity and belong to the Assyrian and Armenian Churches generally enjoy greater freedoms than those who convert away from Islam to Christianity. Less than 20,000 Assyrians are left in Iran today, and as an officially recognized minority group, they are granted one parliamentary seat–which is currently occupied by Yonathan Betkolia.
Breitbart News reported that the day before Christmas Eve, "plainclothes officers" with the Iranian regime beat, arrested, and dragged away a Christian convert from Islam in front of his family at his home in Isfahan. They also confiscated a Christmas tree and other non-Islamic religious paraphernalia in the family's home. Two days later, nine more Christians were arrested in Shiraz for celebrating their faith at a church located inside a home.
Iran's refusal to provide required licenses to churches has resulted in an influx of unofficial churches popping up in private homes. On December 26, 2014, Assyrian Pastor Victor Bet Tamraz and two converts were arrested in a church at his home in Tehran. Bibles, mobile phones, and identification papers were confiscated from the home. He was reportedly released on bail after two months of detention in Iran's most notorious prison, Evin Prison.
http://www.breitbart.com/national-security/2016/01/05/iran-seizes-assyrian-church-will-turn-islamic-prayer-center/